Please note: if you click product links in this article, FigCommons.com may earn a commission on purchases you make. Learn more by reading our disclosure.
Protecting your fig trees from birds can save endless frustration, since birds can easily decimate a very large portion of your season's fig crop. There are a couple of main methods used to prevent birds from eating your figs, each of which having benefits and drawbacks. Effectiveness, cost, and effort vary dramatically, and how you balance these concerns will dictate the method you choose. Here we will discuss the pros and cons of the following measures commonly taken to protect fig trees from birds: fruit protection bags (aka organza bags) and bird netting.
---
Protecting figs from birds with organza bags
Effectiveness: Usually effective against birds
Cost: Inexpensive (approx 10 cents/bag)
Time investment: 10-20 seconds per fig
Bonus feature: Also protects against some insect pests
Unfortunate drawback: They make visual inspection of figs tricky, so you may need to feel figs to determine ripeness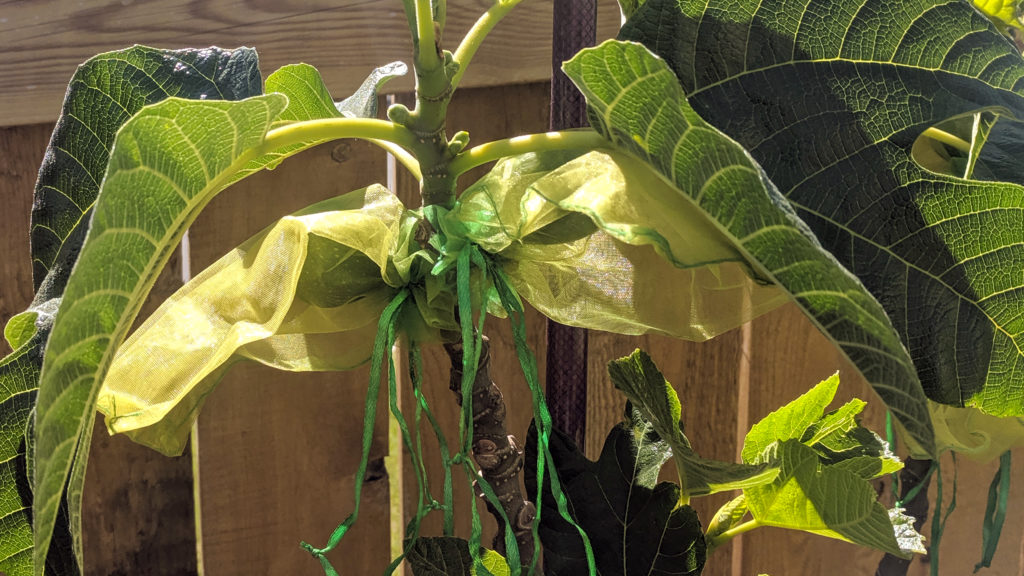 Organza bag overview: When it comes to keeping birds off of my precious figs, my personal favorite is the use of organza bags, sometimes simply called "fruit protection bags." Taking 10-20 seconds per fig, this is a high-touch but very effective method that is great for newer fig growers who aren't dealing with a huge number of trees.  It's not a good choice in larger orchards because you must individually bag each fig, and keep a closer-than-usual eye on them because it makes visually identifying ripe figs a bit harder. This is very difficult with hundreds of trees and thousands of fruits, but absolutely doable with up to a couple dozen fig trees provided you don't let them get over ~7 feet tall.  Note that organza bags work well for birds and flying insects, but not so much for squirrels and other rodents who will simply chew through the bag.
How to use organza bags on figs: To use organza bags for fig protection you simply slip a bag over each fig, pull the strings tight, and tie the strings with a quick overhand knot. When it's time to harvest your figs, you don't have to untie the bag on the tree to remove the figs. Instead, you can pull the whole thing off, fig and bag, since it's much easier to untie the bags when they're off of the tree.
Which organza bags are best for figs? You want to be sure to use the right size of organza bag, since there is the potential for the fig to grow larger than the organza bag, making it impossible to remove.  A larger bag also allows better airflow and evaporation, a concern in humid locations.  I find 4×6" organza bags such as these to be the perfect size for fig protection.  Choosing green colored bags helps to camouflage the figs and might trick birds into thinking there is nothing worth inspecting, although any organza bags will be bleached by the sun within a season or two.
---
Protecting figs from birds with bird netting
Effectiveness: Highly effective against birds
Cost: Relatively pricey
Time investment: 5-10 minutes per tree
Bonus feature: Can be used on taller trees than organza bags
Unfortunate drawbacks: Heavier grade netting can be unsightly. Not a tenable option for very large trees.
Bird netting overview: An effective and lower-effort method of protecting fig trees from birds is the use of bird netting. Bird netting is just what it sounds like: a big net that is placed over the fig (or other fruit) tree, which keeps birds from being able to get to the fruit. Bird netting is among the simplest and most effective options, but is also often the most expensive. It can be a bit of work to get set up, but once installed, bird netting is extremely easy to manage. If care is taken during setup and take-down, the netting can be used for a couple of seasons before sun degradation renders it unusable. Unless you build a frame to suspend the netting around the tree you'll very likely lose any figs that are close to the net, although that will be a small portion of a tree's fruit.
How to install bird netting on fig trees: At the risk of stating the obvious, if you plan to rest the bird netting directly on the tree you should install it after a good amount of springtime leaf growth has occurred, but before your fruit begins to ripen. Installing the netting before leaves have grown in gives it no structure, and installing it too late means birds will get to the fruit before you do. You will also want to wait for a calm day to install, since bird netting can be a tangled nightmare to handle during even moderate winds.
Next, determine the size of the piece of netting you'll need. Measure the width and height of the crown (this is the top part of the tree with branches and leaves), rounding up to the nearest foot. Add those two numbers (height in feet + width in feet), then multiply by 2. This gives you the length and width of the piece of bird netting you'll need.
Example: if you have a fig tree whose crown is 6 feet tall and 4 feet wide, you add those together to get 10 feet, multiply by 2 to get 20 feet. 20 feet is the figure for both the length and width of the piece of netting. This means you'll need a 20×20 foot square of bird netting to cover that tree.
When conditions are right, lay out the bird netting in a single, unfolded, full-size piece, since working with an unfolded net is much easier. Using a box knife or shears, cut a square of netting large enough to cover the entire tree crown (see above), plus another foot or two all around. The extra netting ensures you'll have enough material to allow it to sit loosely on the tree.
Depending on the size of your fig tree, you may need the help of a friend to place the netting over the tree crown, then gather it around the trunk below the crown. Secure in place with plant tie tape, ensuring that there are no gaps that a bird could sneak through.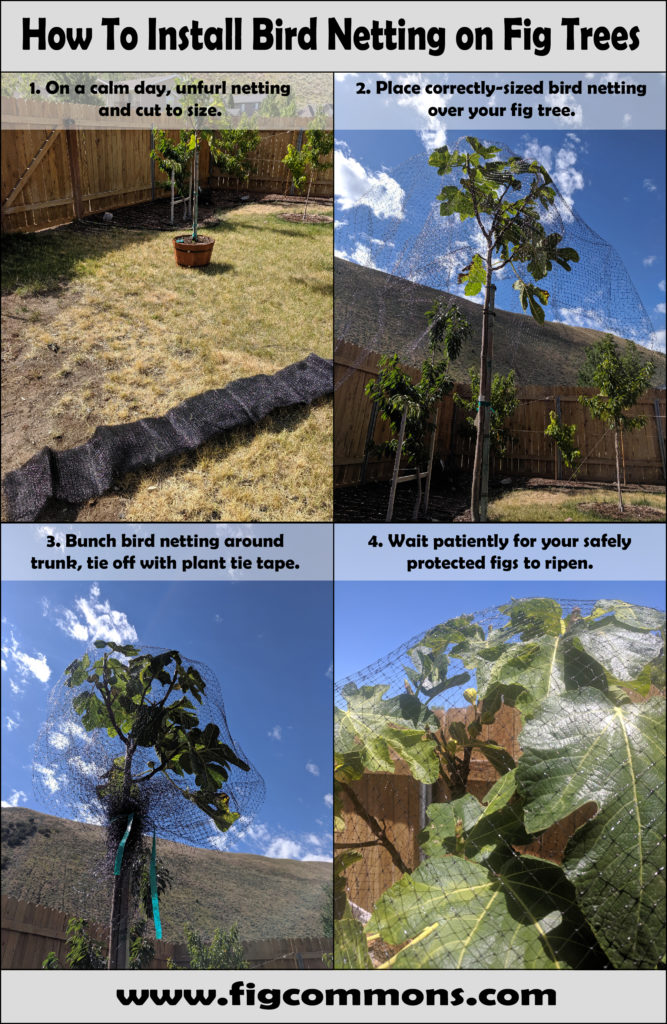 Which bird netting is best for fig trees? The answer to this question will have more to do with the size of your fig trees than any other variable. The second variable, as with most garden products, is durability.
For smaller potted and pruned trees, I've been impressed by De-Bird Heavy Duty Bird Netting. One package includes 7.5 x 65 feet of material, enough to cover around 8 smallish fig trees. It's a sturdy, high-quality mesh that comes folded rather than rolled, making it much easier to work with than less expensive options. In the long run, this high quality option will likely save money due to its reusability.
For the budget-minded, CandyHome Anti-Bird Netting comes in 13 x 33 foot pieces, and includes 100 zip ties for securing the netting. This will protect almost as many fig trees as the De-Bird netting for roughly half the price, but it is harder to work with — it tangles easily — and the lighter material will get holes more easily.
For larger trees, Bird-X Protective Netting comes in 14 x 14 foot and 28 x 28 foot sizes. Because they're a square rather than a roll, you simply buy the right size for your large fig tree and skip the cutting step. It's pricey, but worth it for large trees that yield a lot of figs, plus it'll last for a few years.